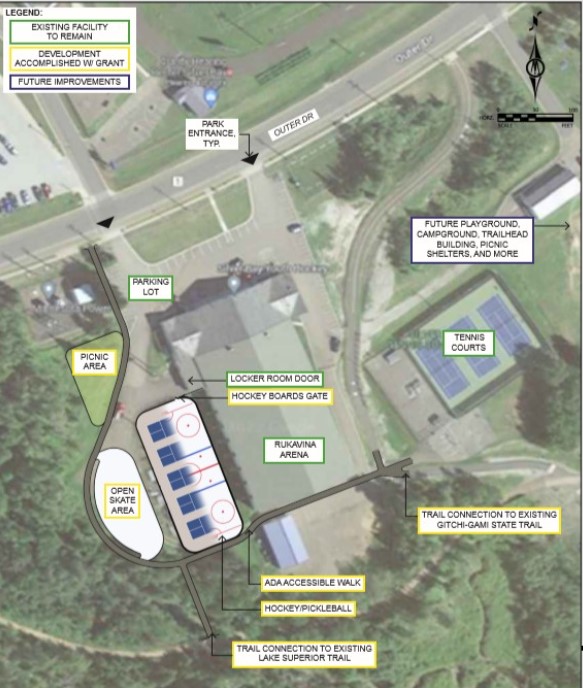 Project Summary
This project involves redevelopment of an underutilized outdoor rink area, that is located on City-owned property next to the Rukavina Arena, to a year-round multi-purpose public area.
The project will include:
Removal of the dilapidated hockey boards
the property will be leveled and properly prepped for installing a new multi-use concrete slab;
purchase of new hockey boards, pickle ball nets and striping, picnic tables, fire pit and seating;
leveling and surface prep for a skating-only rink;
and improving trail access from the outdoor rec area to the Multi-Modal Trail Center and trails.
The vision is to use this area in the Spring, Summer, and Fall months for roller hockey and Pickleball, which is the fastest growing sport in the United States and in Silver Bay, with already over 50 players. During the Winter months, this area would be utilized for outdoor hockey and a separate recreational skating rink, which would be the only one in the entire Silver Bay area and satisfy an unmet need. The picnic and fire-pit area would be available year-round as a gathering place for everyone who plays, spectates, or simply wants to enjoy the amenity. This project started with a request for the serious need to replace the dilapidated outdoor rink that is used heavily by the Silver Bay Blue Line Club, a community youth hockey association. In addition, there have been many requests from the public to install pickleball courts in our community for the growing interest. Furthermore, the city has secured approximately $5 million in funding for a Multi-Modal Trailhead Center to help redevelop this aging area of the community and is located near our proposed Outdoor Rink/Pickleball Court project. Our proposed upgrade of the outdoor rink/pickleball court area only enhances the overall recreational vision for this area and is all-inclusive for anyone who chooses to recreate in our community.
Last Updated: 4/5/23
Project Updates